Urbanism and Planning
As populations around the world grow, so does the need for unique urban development solutions based on scalability, adaptability and resilience.
Steeped in tradition and expertise, yet skilled in progressive technology, the Woolpert urbanism and planning team balances today's changing economic and social landscapes with tried-and-true community planning principles. We partner with various client and community types across the world, from military installations and master-planned communities to mixed-use and multifamily neighborhoods, generating holistic, transformative plans directly informed by and meeting the needs of project stakeholders.
Woolpert's unique design collaborative addresses complex urban planning challenges from a multidisciplinary perspective. Our planners, architects, engineers and other designers are versed in all areas of site and community development, and when appropriate, we integrate our industry-leading, in-house geospatial experts and cutting-edge technology to collect accurate spatial data and provide expanded dimension and insight.
Sustainable, comprehensive plans, customized to the urban lifestyle, result in celebrated communities. That's urbanism and planning at Woolpert.
Featured Projects
Covington Central Riverfront
Covington, KY
Designed strategic master plan for mixed-use urban community on a 23-acre riverfront site
East End Renaissance
Middletown, OH
Developed master plan and signature city entrance to 1,200 acres adjacent to a regional health center
NASIC Area Development Plan
Wright-Patterson AFB, OH
Prepared an ADP addressing both existing facility conditions and future facility requirements
---
Wallace Creek Area Development Plan
Camp Lejeune, NC
Created an ADP aligning future facilities with growing United States Marine Corps mission requirements
---
Tennessee State University
Nashville, TN
Documented current conditions and collaborated with campus stakeholders on a well-supported campus master plan
---
University of Cincinnati College of Business
Cincinnati, OH
Designed the signature plaza at the intersection of the Campus Green walkway and Main Street arch
---
Deerfield Township Parks
Landon, OH
Generated a master plan, eight park-specific concept plans and comprehensive strategic action plan for the township park system
---
J.E. Ramseur Park
Concord, NC
Provided park master planning, conceptual design, engineering and architecture for a new 28.6-acre community park
---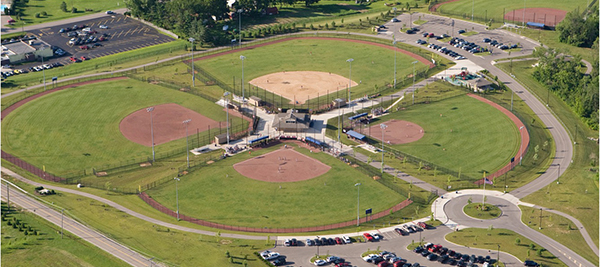 Mason Sports Park
Mason, OH
Planned award-winning sports park focused on a five-diamond baseball/softball complex
Capabilities
Campus master planning
Community master planning
Comprehensive master planning
Facility space studies and optimization planning
Federal planning and programming
Grant strategies and services
Land planning and development
Landscape architecture and design
Mixed-use and multifamily planning
Parks and recreation planning
Public engagement and charrette facilitation
Redevelopment plans and adaptive reuse
Resilience planning
Site development and site selection
Sustainability and LEED® design
Transportation planning and mobility studies
Urban design and placemaking